Gallery
(click on thumbnail for larger image)

Back Cover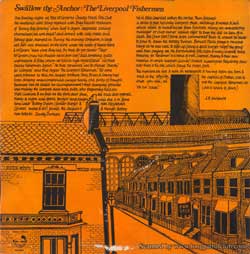 Design by Jennifer Roberts


---
Label (Side One)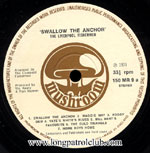 ---
Label (Side Two)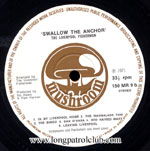 ---



Swallow the Anchor

The Liverpool Fishermen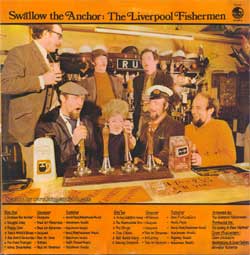 Photo by Colin Jackson


The Liverpool Fishermen are often a footnote in Brian Jacques' biographies and interviews. In the 1960's, he was a member of the folksinging group, which consisted of himself, his two brothers (Tony and Jimmy), Bobby Dyson, Alan Fitzgerald, and (later) Bernard Davis. (Tony Higham has also been suggested as being a member, although he wasn't mentioned on this album.)

Beyond this description, the type of music and specific style of the group remained largely unknown.

What was the music by The Liverpool Fishermen like?

That's where their first album, Swallow the Anchor, comes in. Released in 1971 on the Mushroom Records label, the album consisted of thirteen songs and ran approximately 34 minutes in length. Lyrics can be found here (side 1) and here (side 2) or by clicking on each song title.

First up is the song from which the album derives its name, Swallow the Anchor. Written by Brian Jacques and featured in Yennoworrameanlike, it's a good, old fashioned drinking song that bids sailors to "swallow the anchor" and give up their life at sea, settling down in Liverpool. Aside from the chorus (when all of the Fishermen join in), the song is sung by Brian Jacques. After the initial shock of how young Brian sounds subsides, he becomes fairly easy to pick out in subsequent songs. Swallow the Anchor is a grand old sea shanty that's very easy to sing along to.

The album's second song, Maggie May, shows more of the folk-ish flair of the group-- which makes sense, seeing as how it's a traditional folk song. The lead singer (not Brian) tells the story of the "dirty robbing no-good Maggie May", a lass who steals from sailors and any others she can, and how she gets her final comeuppance.

The third song, Foggy Dew, is one of my favorites on the album. An old style Irish ballad, it tells of the Easter Uprising of 1916, when militant Irish republicans revolted in order to gain their independence from Britain. Some say the song was written by Peadar Kearney, others by Canon Charles O'Neill-- whatever the case, it's well written, indeed. The lead vocalist was once again not Brian, but they did a marvelous job of evoking the imagery of the song and all of the Fishermen joined in for the last verse, giving the finish the added weight it called for. The song is one that invokes a real sense of fate, tinged with sadness. Excellent job.

The fourth song, Yate's White's Blues, is a drinking song in every sense of the word. All of the Fishermen get in on the action here. The song was written by Brian (and appeared as the first poem in his first book, Get Yer Wack) and can only be described as a love poem to "the hardest stuff, it's bloody rough... Sweet Australian White".

The fifth song, Bill Hart's Favourite, is all instrumental-- banjo, specifically-- and only a minute in length. It's a nice song, but unremarkable next to the others.

The sixth song is The Ould Triangle, which was written by Brendan Behan. The triangle in question is the one that summoned prisoners to their meals in Mountjoy Prison in Dublin, which borders the Royal Canal (also mentioned in the song). Behan wrote it while serving out a prison sentence for his involvement with the I.R.A. As for the Fishermen rendition, Brian is back as lead vocalist for the song, with the rest of the gang joining in for the chorus. The song is a slow, melancholy one, in stark contrast to the upbeat tunes of the adjoining songs. It's not without its humor, though, especially towards the end.

The seventh song (the last on the first side of the album) is Home Boys Home, which is a boisterous, lighthearted cautionary tale about a sailor who longs to be back home and whose lady finds herself stuck with twins while he's off at sea. A humorous song, it's very in keeping with Maggie May and Swallow the Anchor.

Starting off side two of the album is In My Liverpool Home, the Liverpool anthem as written by Peter McGovern. It's hard not to get caught up in the song, which fast became one of my favorites (and was the first whose lyrics I actually memorized). The song paints an enchanting picture of Liverpool and its culture and practically invites you to sing along. Excellent song.

The ninth track is actually a music-less monologue, where Brian Jacques reads The Marmalade Tom, which he, himself, wrote. It's a simple story of a mean cat... and what trips to the vet mean for such cats. ;)

The music is back for song ten, The Bingo, which is another selection written and sung by Brian (which also appeared in Get Yer Wack). As one might expect, it's a very folk-y song about a family that loves to go play bingo (bingo bingo). It's actually one of the weakest songs on the album, but it nevertheless gets stuck in your head. Lighthearted fun.

Eleventh, we have Dan O'Hara, an Irish-flavored folk song about a poor old soul named Dan O'Hara who is visited by misfortune-- constantly. Surprisingly, in spite of the depressing subject matter, it's a very upbeat, foot-tapping inducing song. There's very little to say beyond that.

Red Haired Mary is next up, written by Sean McCarthy. It tells the story of a young man who goes to a fair in Dingle, sees a red-haired maiden, and gets into a good old fashioned brawl with her bethrothed all through the village (it evoked memories of John Wayne's The Quiet Man for me-- mileage may vary, but it fits so well).

Leaving Liverpool wraps things up and there's no better way to end the album. A sailor's farewell to the landmarks of Liverpool, but especially to his true love (for he's bound for Californ-eye-aye aboard the Davy Crockett), who he vows to come back and marry. The chorus demands to be sung loudly, and the Fishermen are more than willing to oblige. This one actually rounds out my list of top three favorites (alongside Foggy Dew and In My Liverpool Home), it's that well done. A song of parting that manages to sound mournful and upbeat at the same time.

Throughout the album, there's very much a sense that this is a group of mates, Guinness in their hands, having a grand old time and what they want is for you to toss your arm around their shoulders and join in. The music isn't deep, but it's wonderfully entertaining and I'm sorry they didn't put out more albums.

Overall, Swallow the Anchor proved to be a very enjoyable album full of fun drinking songs. It probably wouldn't interest casual Redwall fans, as there's very little the two products have in common. But, for those who have an interest in Brian Jacques himself and his life experiences, it can't be passed up. It's great music with a sense of fun-- and in the end, what more could one ask for?


---
Album Information
| Side One | Composer | Publisher |
| --- | --- | --- |
| 1. Swallow the Anchor | Jacques | Anvil Press/Maximum Music |
| 2. Maggie May | Trad. Arr. Fishermen | Maximum Music |
| 3. Foggy Dew | Trad. Arr. Fishermen | Maximum Music |
| 4. Yate's White's Blues | Jacques | Anvil Press/Maximum Music |
| 5. Bill Hart's Favourite | Trad. Arr. Davis | Maximum Music |
| 6. The Ould Triangle | Behan | Keith Prowse Music |
| 7. Home Boys Home | Trad. Arr. Fishermen | Maximum Music |
| Side Two | Composer | Publisher |
| 1. In my Liverpool Home | McGovern | Spin Publications |
| 2. The Marmalade Tom | Jacques | Anvil Press |
| 3. The Bingo | Jacques | Anvil Press/Maximum Music |
| 4. Dan O'Hara | Trad. Arr. Fishermen | Maximum Music |
| 5. Red Haired Mary | McCarthy | Segway Music |
| 6. Leaving Liverpool | Trad. Arr. Fishermen | Maximum Music |
Arranged by: The Liverpool Fishermen
Produced by: Vic Keary & Pam Harmer
Cover Photograph: Colin Jackson
Illustration & Cover Design: Jennifer Roberts

---
Text from Back of Album
One Sunday night at Pete McGoverns County Ward Folk Club the audience were being regaled by Billy Moore's rendition of 'Bonny Boy Growing' when half a dozen desperate looking characters (all well oiled) and armed with rods, creels and fishing gear, stamped in. During the ensuing confusion, a large wet fish was smacked on the table under the noses of Messrs Moore & McGovern (may his shadow never grow less) said something quite unprintable & Billy (whom we hold in high regard) said "it's those bloody Fishermen again." All that remained was to change 'bloody' for 'Liverpool' and thus began 'The Liverpool Fishermen.' For some years previous to this, the Jacques brothers, Tony, Brian & Jimmy had been singing unaccompanied (unless twenty odd pints of Draught Guinness can be called an accompaniment) their stamping grounds was mainly the Liverpool dock area pubs, who frequently had an Irish Licensee & as fast as the front door shut, the back door opened. Many a night was spent boozin' and singin' until the A.M. Some time later Bobby Dyson (Guitar-Banjo) & Alan Fitzgerald (Guitar, twelve & six) joined the Jacques's & though Bobby now lives in County Durham he is still counted within the ranks. Then followed a series of gigs, typically Liverpool Style, weddings & wakes & "do's" which seem to materialise from nowhere. Many an unsuspecting manager or club owner would offer to buy the ale in lieu of a cash fee (poor fool) Some even commented that it would be easier to pour it down the Mersey Tunnel. Bernard Davis plays a raucous banjo so he was next to sign up (being a good boozer helps) the group were then playing all the surrounding folk clubs & many outside towns. Material for 'Fishermen' is a blend of Irish, Liverpool, Shanty & their own material in which Liverpool (scouse) dialect monologues frequently occur also there is the ale, which plays the main part.

The members all live & work on Merseyside & having been all born & bred in the Holy City, the capital of Dublin, call it what you will, we are the Liverpool Fishermen an 'its our 'ockee! (don't knock it down)

J.B. Jacques
---
Running Time: approx. 34 minutes
33 1/3 rpm 150 MR9
Released 1971 by Mushroom Records - Chalk Farm Studios Limited All rights reserved.